KEY FEATURES & BENEFITS
Up to 3x brighter colours and reliable performance*

– 3LCD, 3-chip technology

1080p High Definition

– For Full HD movies, games and more — up to 330" on virtually any wall or screen.

Bright Images

– 2,700 Lumens colour brightness and 2,700 Lumens white brightness for entertainment in any environment

Smart TV

– a Smart Media Player (SMP) is included so you can watch your favourite content from apps with a simple-to-use remote that features voice search

High Contrast

– contrast ratio up to 35,000:1 delivers a high range of colour and detail in both bright and dark scenes

New Viewing Functions

– heighten your gaming experience with advanced features such as 21:9 ultra-wide full HD mode and dark gamma uplift

Detail Enhancement

– enhance standard definition content to make your entertainment come alive

Frame Interpolation

– for smoother, sharper and more realistic action scenes

Captivating Sound

– enjoy a built-in 10W stereo speaker for life-like sound

Exciting 3D Adventures

– delivers eye-popping 3D entertainment at home with RF 3D glasses (sold separately)

Low Cost of Ownership

– Long-life, cost efficient lamps and a High Efficiency Filter extends the life of your projector and allows for hassle free maintenance

Easy to Use

– A new simple welcome guide and easy-to-use remote puts all the most commonly used functions right at your fingertips

2 Year Projector Warranty

– Enjoy peace of mind.
*Colour brightness(colour light output)_in brightest mode, measured by a third-party lab in accordance with IDMS 15.4. Colour brightness will vary depending on usage conditions. Top-selling Epson 3LCD projectors versus top-selling 1-chip DLP projectors_based on NPD sales_data for May 2017- April 2018.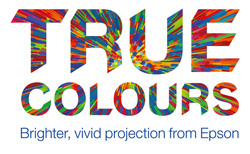 Brighter, Vivid Projection
White brightness alone cannot bring the true colours you see everyday. While other manufacturers of 1-chip DLP technology believe they can improve image quality by just increasing the brightness of their projectors' white light output, Epson ensures that its projectors combine brightness and True Colour to create vibrant and realistic images with 3LCD technology across every projector model.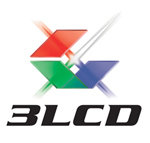 3LCD Technology
All Epson projectors are based on 3-chip LCD technology for amazing colour, incredible detail and solid reliability. 3LCD's 3-chip architecture dedicates an entire chip to process each primary colour – red, green and blue, continuously. Unlike single-chip technology that delivers colour sequentially, you get full-time colour. The result is vibrant, realistic images and video all delivered with 3LCD's true-to-life colour.

3x Brighter Colours with Epson Projectors*
Epson projectors use 3LCD Engines that have no colour wheel with a white segment and therefore don't force a trade-off between white and colour brightness.
In fact, Epson projectors have up to 3x Brighter Colours than their leading competitive 1-chip DLP projectors*. If you are looking for business and education projectors or 720p home entertainment projectors, know that choosing Epson projectors means up to 3x brighter colours. If you are looking for 1080p home entertainment projectors, you consistently get 2x and up to 3x Brighter Colours than competitor 1-chip DLP projectors*.
All Epson projectors list both White Brightness and Colour Brightness specifications, and all have high Colour Brightness.
* Colour brightness(colour light output) in brightest mode, measured by a third-party lab in accordance with IDMS 15.4. Colour brightness will vary depending on usage conditions. Top-selling Epson 3LCD projectors versus top-selling 1-chip DLP projectors based on NPD sales data for May 2017 – April 2018.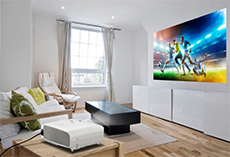 Amazing Full HD 1080p Entertainment
1080p resolution ensures an amazing, larger-than-life HD experience, while high colour brightness delivers bright, vibrant image quality – whether it's a blockbuster movie, live sporting event or video game.

Frame Interpolation
Frame interpolation technology inserts multiple new frames between the original ones, so motion appears smoother, sharper and more realistic.


Detail enhancement
Fine tune high definition images by turning on the detail enhancement feature which sharpens and refines images for lifelike clarity.


Smart Media Player for Heightened Entertainment
With a smart media player embedded in the projector, you now have the option to select from over 4,000 content apps including already pre-installed apps. It's now easier than ever to stream your favourite series, live sporting events, or simply watch the latest blockbuster movie with the EH-TW5700.



Voice control
Access your favourite shows or contents on the EH-TW5700, operating with one easy-to-use remote that enables voice control

Chromecast built-in
Cast your favourite entertainment apps – movies, TV shows, music, games, sports and more – from your Android or iOS device, Mac or Windows computer for flexible viewing with simple set-up.
35,000:1 High Contrast
Enjoy bright, vibrant pictures as well as excellent shadow detail, so you can bring your favourite movies to life.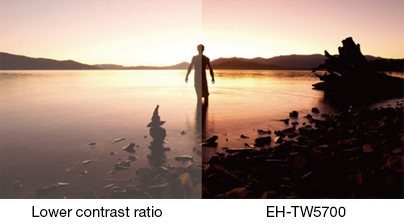 Flexible Positioning
Project up to 330" on virtually any wall or screen and have the versatility of 1-1.2x optical zoom and auto vertical keystone correction for easy adjustments in a variety of spaces.

21:9 ultra-wide full HD
Get a wider perspective with the option of 21:9 ultra-wide full HD mode, perfect for a fully immersed view when gaming or watching movies on the big screen.
Dark Gamma Uplift
Achieve a new level of gaming by using dark gamma uplift to brighten up dark areas and provide a broader view so you never miss what's happening on the screen.
Captivating Sound
Setting up the EH-TW5700 is even easier with a built-in 10W speaker to provide life-like sound. Have more control over your experience with the additional option of aptX Bluetooth connectivity to external speakers to further amplify your entertainment.

Bright 3D Drive Technology for 3D Cinematic Adventures
Enjoy thrilling 3D adventures right in the comfort of your living room. Featuring Bright 3D Drive technology, the TW5700 puts you right in the middle of the action. Epson's drive system minimises the blackout time of 3D glasses and provides greater brightness when viewing 3D* content. *3D glasses sold separately through third party.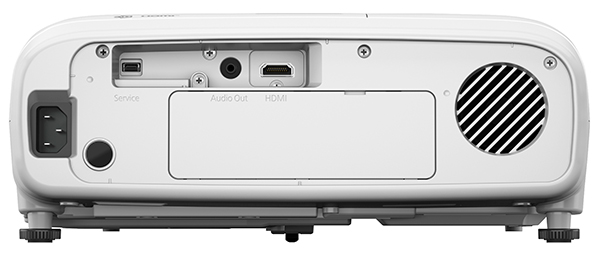 Projector Screen Information:

SG Audio Visual Ai Series 2.4m wide (108") Intelligent Electric Projector Screen (16:9)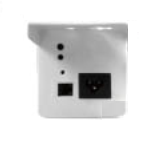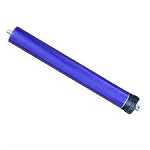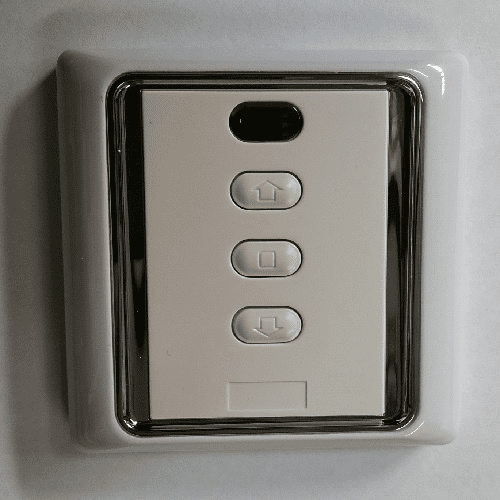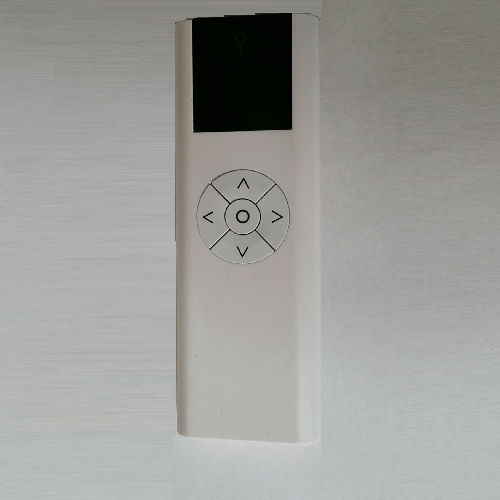 SUITABILITY
This screen is perfect for home theatre and video presentation in a medium sized room (say 3.5m wide by 4m long)in conjunction with any 1080p or 4k wide format projector. The 16:9 format is designed to match with the native aspect ratio of most home cinema content. Use this screen where the majority of use if for video.
FEATURES
The Ai series are our most advanced and durable screens. The Ai series range features a commercial gauge fiberglass screen surface, intelligent control and a tube motor.
Commercial Quality Screen Surface
The fiberglass surface is heavier and as such provides a flatter viewing surface and is more resistant to stretching. The extra thickness of the screen surface makes the Ai series the appropriate choice where durability and damage resistance is important.
Intelligent control
The Ai series screens come standard with a wireless wall switch and a separate wireless remote control. This minimises cabling costs. In addition to the standard controls it is possible to control the system via infra-red, wired wall switch or low voltage control system by purchasing additional control options.
Tube Motor
The Ai series uses a tube motor which extend down into the core of the screen to provide more even and reliable retraction when compared with economy screens.
Long Black Leader
The Ai series comes with a 50cm black leader which allows the screen to be positioned higher on a wall than many of its competitors.
Long Warranty
The Ai series now comes standard with 2 years warranty.
SPECIFICATIONS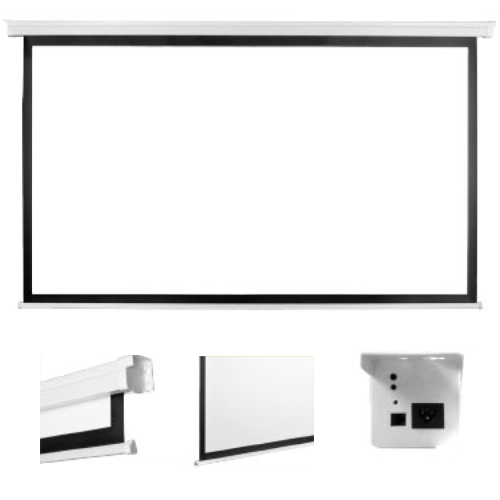 Screen Size
Screen surface (viewable area including 3cm border) area is 240cms by 135cms.
The housing is slim-line white and measures 9cms by 11cms.
Overall width of screen including housing with motor is 260cms.
The Screen weighs 16kgs.
100" size refers to the diagonal of the screen surface expressed in inches.
Screen Surface
The screen surface is matt White high end fabric and has a lightproof black back. The screen has a gain factor of 1.2 and has a 3cm black border.
Housing and motor
The screen housing is a heavy duty metal case in off-white and designed to blend into most rooms.
The housing is rectangular and features built-in L-shaped brackets for wall or ceiling mounting.
A long tube motor provides improved screen retraction as the screen surface is pulled up more evenly than traditional motors.
Remote Control
This Ai Series screen connects to a normal power point. The screen includes a wireless wall switch and a RF wireless remote control. Additional options are available for a wired wall switch, low voltage control and infra-red control.
INSTALLATION NOTES
Suitable for wall and ceiling installation.
Easy to Install - Normally only 4 screws required.
The power point should be located on the left hand side of the screen when facing the screen. In many offices the power point may already exist above the ceiling tiles. The built-in L-shaped brackets are used for both direct ceiling and direct wall mounting. Two screws at each end are used to secure the screen to the wall or ceiling.
Optional wall mounts may be purchased to position the screen out from the wall in front of doors, windows, or wall-mounted TV.
WARRANTY AND PARTS
NOW WITH 2 YEARS WARRANTY against defects in materials & workmanship.
A further 2 year warranty (total 4 years) is available separately.
Spare parts are maintained in our Australian warehouse